Milan Krkobabic, Minister without Portfolio in the Government of Republic Serbia in charge of regional development, is today in Gornji Milanovac, with the fact that in the Moravian region, people with knowledge as a key resource are worthy and should be used even more in the direction of organic production.
Krkobabic announced the possibility to form the first experimental complex agricultural cooperative next year in the Milano municipality.
He and his associates once again presented the Program for the Implementation of Measures of Equitable Regional Development of the Republic of Serbia and reminded that as of the beginning of the project "500 cooperatives in 500 villages" 302 cooperatives were formed, which is a clear indicator of the success of the project, returning to the right way merging into Serbia.
– Of the seven agricultural cooperatives in this municipality, grants for the development of co-operatives have applied for four, and I hope that they will receive the money, Krkobabic said in an interview with the cooperatives.
He added that in a working visit to the municipality of Milan, he came to see how local self-government can help implement measures that contribute to regional development.
– I got the assurances that the municipality will help form a cooperative and will help in the coming years to cooperate from the agricultural budget – said Krkobabic and said that Gornji Milanovac has the opportunity to develop organic production that in Serbia covers only 16,000 hectares and deals with it three to four thousand households, and that organic production in Austria amounts to 20 percent of total agricultural land.
He pointed out that newly formed co-operatives could receive financial assistance for regional development in the amount of 7.5 million dinars, the existing 15 million, and 60 million dinars for complex cooperatives.
He said that 825 million dinars were allocated to cooperatives this year, and that "Serbian hosts expect to allocate 25 million euros next year".
– You used to be a business miracle, you were asleep. I expect you to wake up and be the most developed part of Serbia – said Krakobabic to producers in Gornji Milanovac.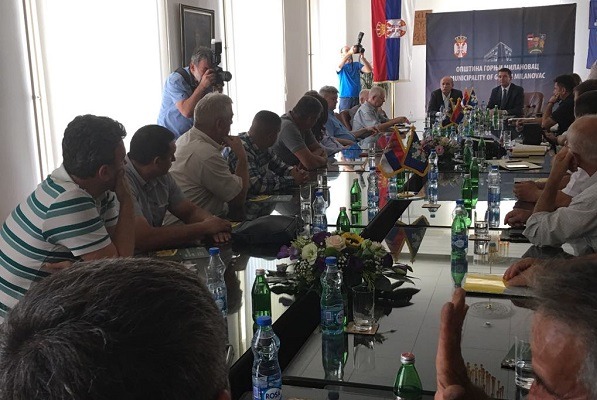 Mayor of Gornji Milanovac Dejan Kovacevic said that this year local government allocated 50 million dinars to help farmers.
– The municipality has set up a farm assistance office and next year we will find the possibility to help the cooperative from the agricultural budget – said Kovačević.
The meeting was attended by the director of ZZ "Agrobobica" Aleksandar Jolovic.